Non rispetta nessuna regola tradizionale l'ultimo libro scritto e fotografato da Paolo Gobbi ed edito da Pucci Papaleo Editions. Si comincia con il titolo stesso: FERO – 150 Steel Chronographs. L'ispirazione viene dal materiale stesso dei 150 cronografi vintage fotografati nelle pagine della pubblicazione, ovvero l'acciaio. Per ordinare una copia del libro, cliccate qui.
The latest book written and photographed by Paolo Gobbi, and published by Pucci Papaleo Editions, breaks all the traditional rules. Starting with the very title: FERO – 150 Steel Chronographs. The inspiration started from the constituent material of the 150 vintage chronographs pictured in the book, namely steel. To order a copy of the book, head over here.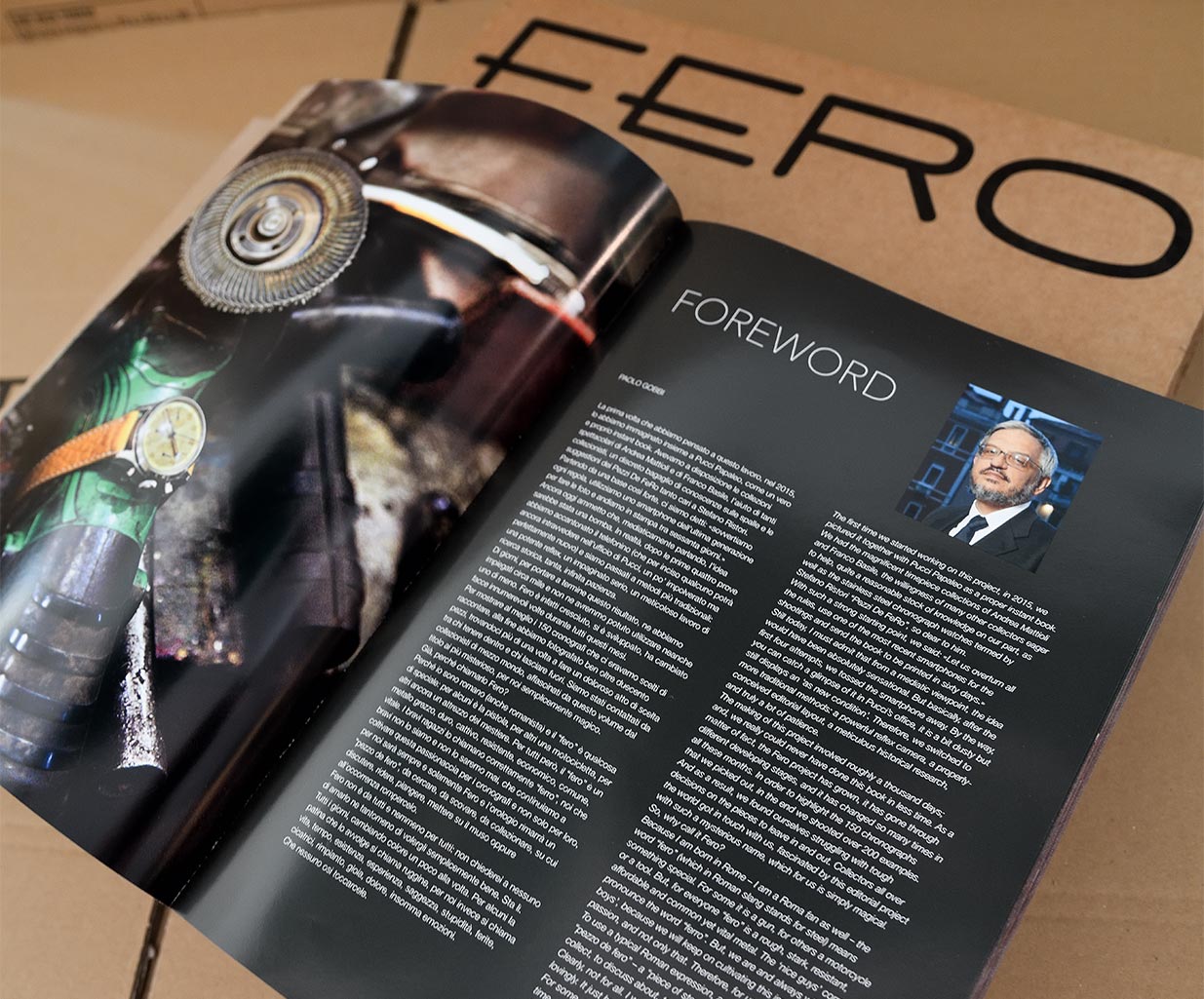 Ovviamente, con l'aggiunta di una connotazione strettamente romana, quel 'fero' che nello slang della Città Eterna significa la pistola, la motocicletta, oppure un oggetto comunque di grande materialità. Come ha scritto l'autore nella prefazione: «Per tutti il 'fero' è un metallo grezzo, duro, cattivo, resistente, economico, comune, vitale. I bravi ragazzi lo chiamano correttamente 'ferro', noi che bravi non lo siamo e non lo saremo mai, continuiamo a coltivare questa passionaccia per i cronografi e non solo per loro».
As well as the typical Roman slangy word 'fero', which has many and varied meanings, such as a gun, a motorcycle, or any object displaying a strongly marked materiality. As written in the author's foreword « For everyone 'fero' is a rough, stark, resistant, affordable and common yet vital metal. The nice guys correctly pronounce the word 'ferro'. But, we are not and never will be nice, because we will keep on cultivating this insane watch passion, and not only that».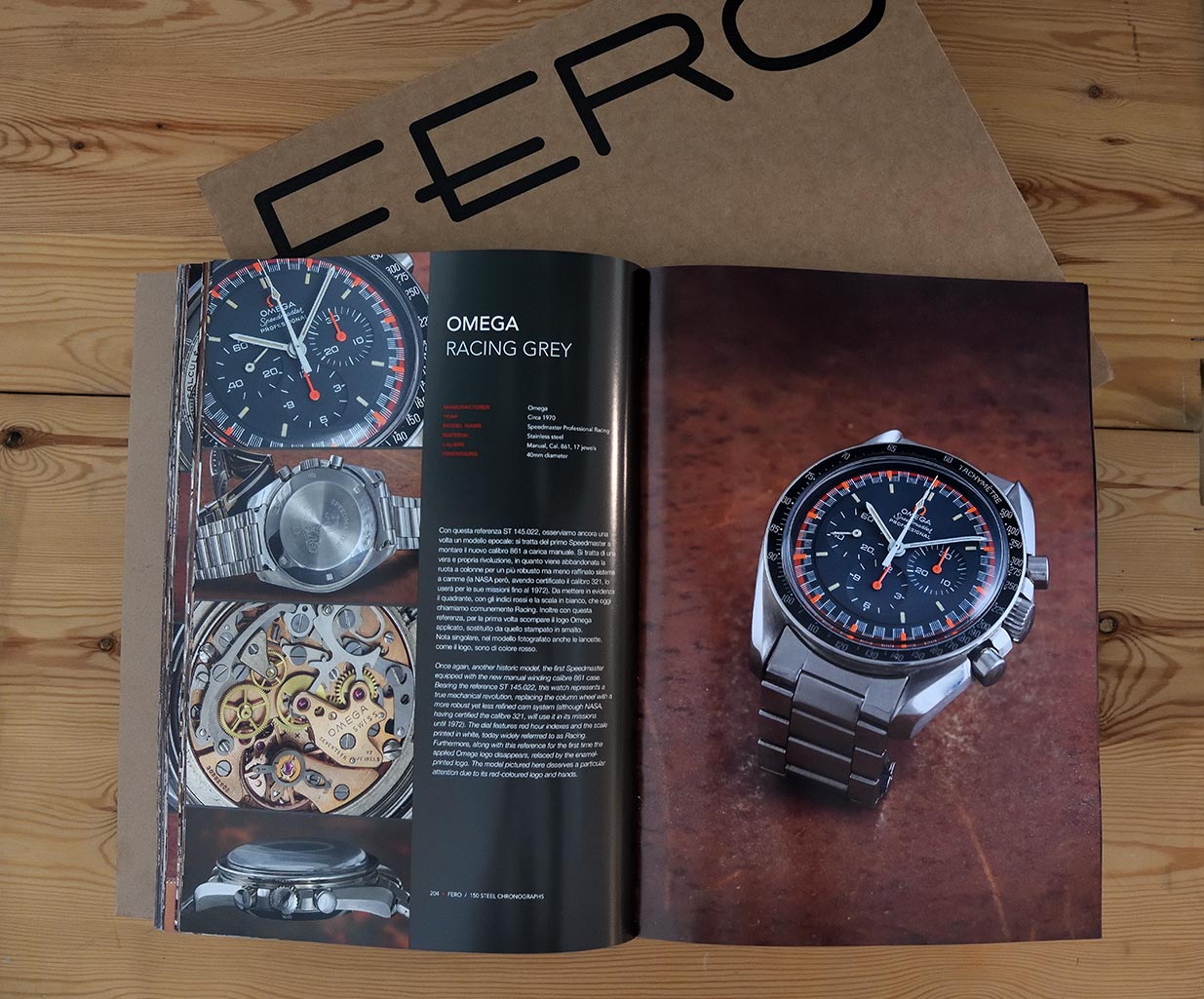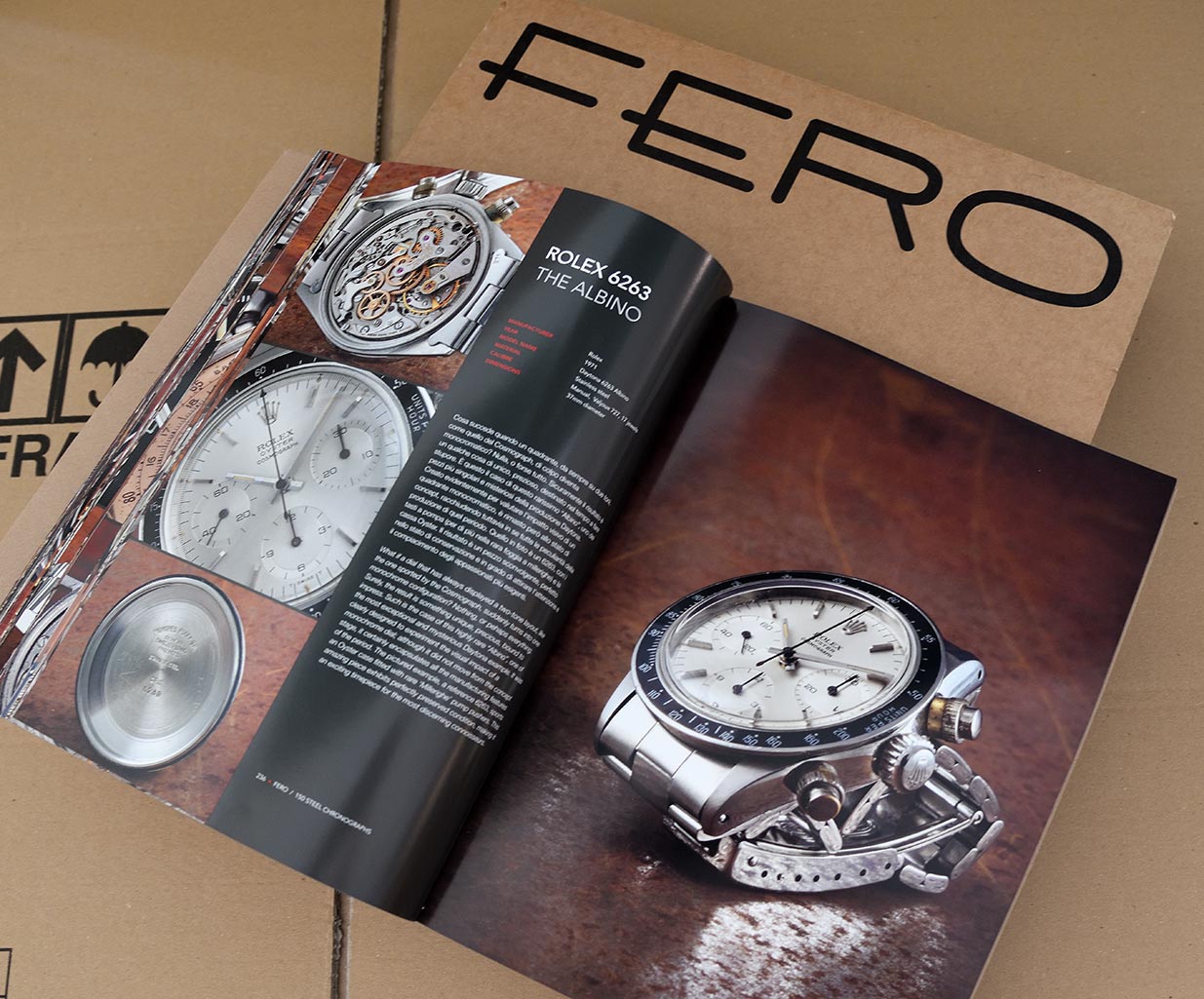 Scegliere ha significato rinunciare. Avendo stabilito che fossero 150 i cronografi, ci siamo visti costretti a scartare alcuni orologi. Fatti salvi alcuni mostri sacri del collezionismo internazionale, affiancati da alcune vere e proprie chicche d'autore, come il Siderografo di Longines, il Magini di Eberhard, il Rattrapante di Rolex, sono stati comunque tanti i marchi fuori dal coro o addirittura sconosciuti ai più presentati nelle pagine di questo imponente volume.
«La storia, il tempo, mi ha insegnato a non dare importanza al valore economico di quello che cercavo – ha detto Andrea Mattioli, che ha collaborato alla selezione dei pezzi presentati – quanto al valore che ha per me quando vedo o indosso quello che più amo. Ad esempio, più di una volta mi è capitato di muovermi, prendere aerei, viaggiare per più giorni, solamente per riuscire a conquistare un cronografo che cercavo da tempo, il cui valore era sempre nettamente inferiore alle sole spese del viaggio che avevo sostenuto per andarlo a prendere. Ma va bene così! Non voglio guadagnare, voglio solamente trovare gli orologi giusti, belli, nel migliore stato di conservazione possibile».
Sulla stessa linea anche le idee di Franco Basile, collezionista ed esperto che ha collaborato alla stesura delle pagine: «Questo libro è un po' una sintesi i una visione contemporanea del collezionismo orologiero: nessuna presunzione di importanza esclusivamente per il blasone; nessuna ricerca esasperata del prezzo o della rivendibilità; esclusivamente il gusto di scoprire qualcosa di non visto, di bello, di piacevole da raccontare».
Choosing meant relinquishing. Having established that the book would include 150 chronographs, we regretfully had to set aside some of the timepieces. Except for some of the world's watch collecting grails, flanked by a few horological treats – such as Longine's Siderograph, Eberhard's Magini, the Rolex Split-Seconds reference 4113 – many were the outsiders or even unknown watch brands displayed in the pages of this mighty volume.
«Time has taught me not to consider the economic value of the example I am looking for – quoting Andrea Mattioli, who got involved in the selection of the timepieces – but rather what the watch means to me when I wear it or how much I love it. For instance, I travel quite a lot, even for long periods of time, just to be able to grab the chronograph I was looking for a way over for so long; and, sometimes its economic value was considerably less than my travelling costs. But, it's fine! It is not a question of earning money, it is all about finding the right timepieces: amazing watch beauties, possibly exhibiting near-perfect conditions».
Along the same lines, the collector and expert Franco Basile, who worked as well in the making of the book: «This book summarises quite a bit what I consider "my" personal vision of watch collecting: no self-importance just for the sake of a prestigious brand name and no obsessive research for the best price or future resaleability. As for me, it all pivots around the taste for beauty, the rarity of an example and something pleasant to talk about».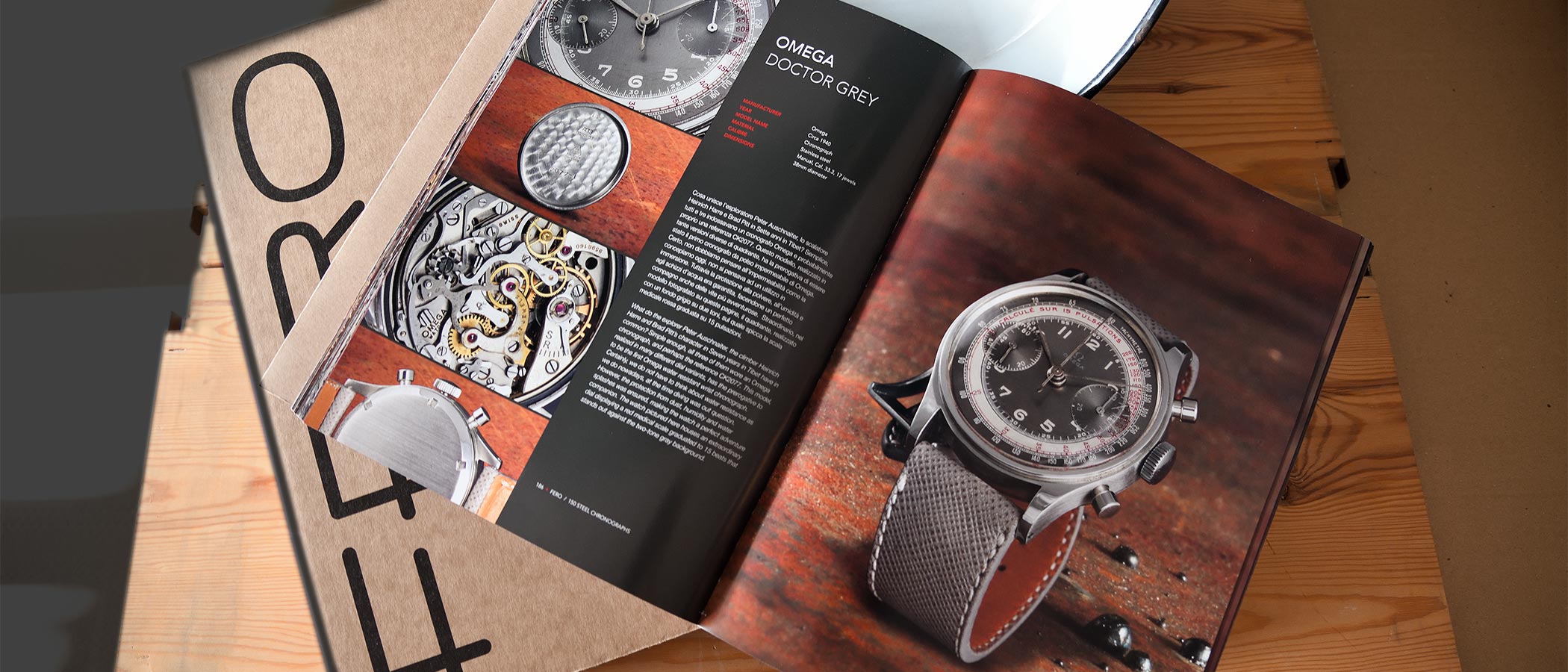 Un lavoro di grande portata, che ha visto il team di lavoro impegnato per circa tre anni. Ma ne è valsa la pena. Un'attenzione maniacale è stata posta alla qualità fotografica e di stampa del libro. Dalla presentazione di Pucci: «FERO sarà il primo di una serie di capitoli nei quali racconteremo le nostre passioni, descrivendole nell'unica maniera che conosciamo: la più bella».
Tutte le foto sono state scattate con una full frame Canon, per essere poi post-prodotte dal genio di Gino La Bella e quindi stampate sotto l'esperta supervisione di Enrico De Antoni, che ha scelto un sistema di stampa innovativo basato sulla tecnologia System-G, regalando a FERO – 150 Steel Chronographs il suo carattere rude e al contempo elegante. Il risultato è stato una qualità delle immagini quasi tridimensionale, con un effetto cromatico e di risoluzione inedito. Il risultato sono 352 pagine di testo in italiano e inglese, arricchite da oltre 600 foto originali messe in pagina da Chiara De Luca, e il tutto supervisionato da Naomi Ornstein che ha coordinato i tanti attori che hanno partecipato alla realizzazione del libro.
This project has been indeed of great significance, which required almost three years of work. Yet, it was worth it. Painstaking attention has been given to the photographic image quality and the printing. From Pucci's overture: «FERO will be the first of a series of chapters that will narrate our passions, describing them in the only way for us possible: the most beautiful way ever». 
All the photographs were taken with a full frame Canon camera and have undergone the post-production stage mastered by Gino La Bella, then printed under the expert oversight of Enrico De Antoni, using the highly innovative System-G printing technology, which has given to FERO – 150 Steel Chronographs that rugged yet stylish nature. As a result, the photograhic quality is unbelievable due to the nearly three-dimensional visual effect of the images, to a powerful chromatic impact and image resolution. The team realized a book made of 352 pages written in Italian and English, further enriched by over 600 unedited photographs visually arranged by Chiara De Luca, and Naomi Ornstein, who supervised the project and coordinated the many actors who played a part in the making of the book.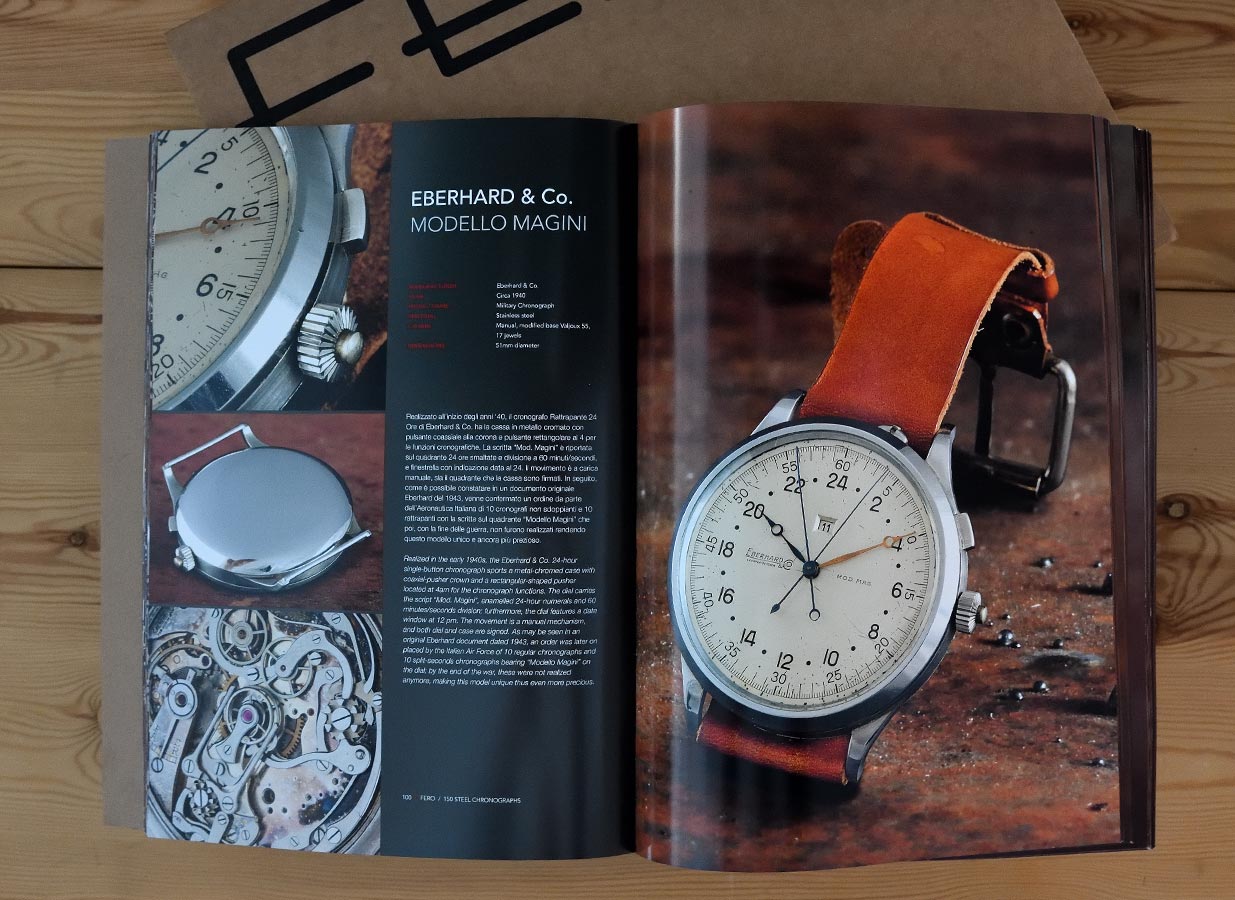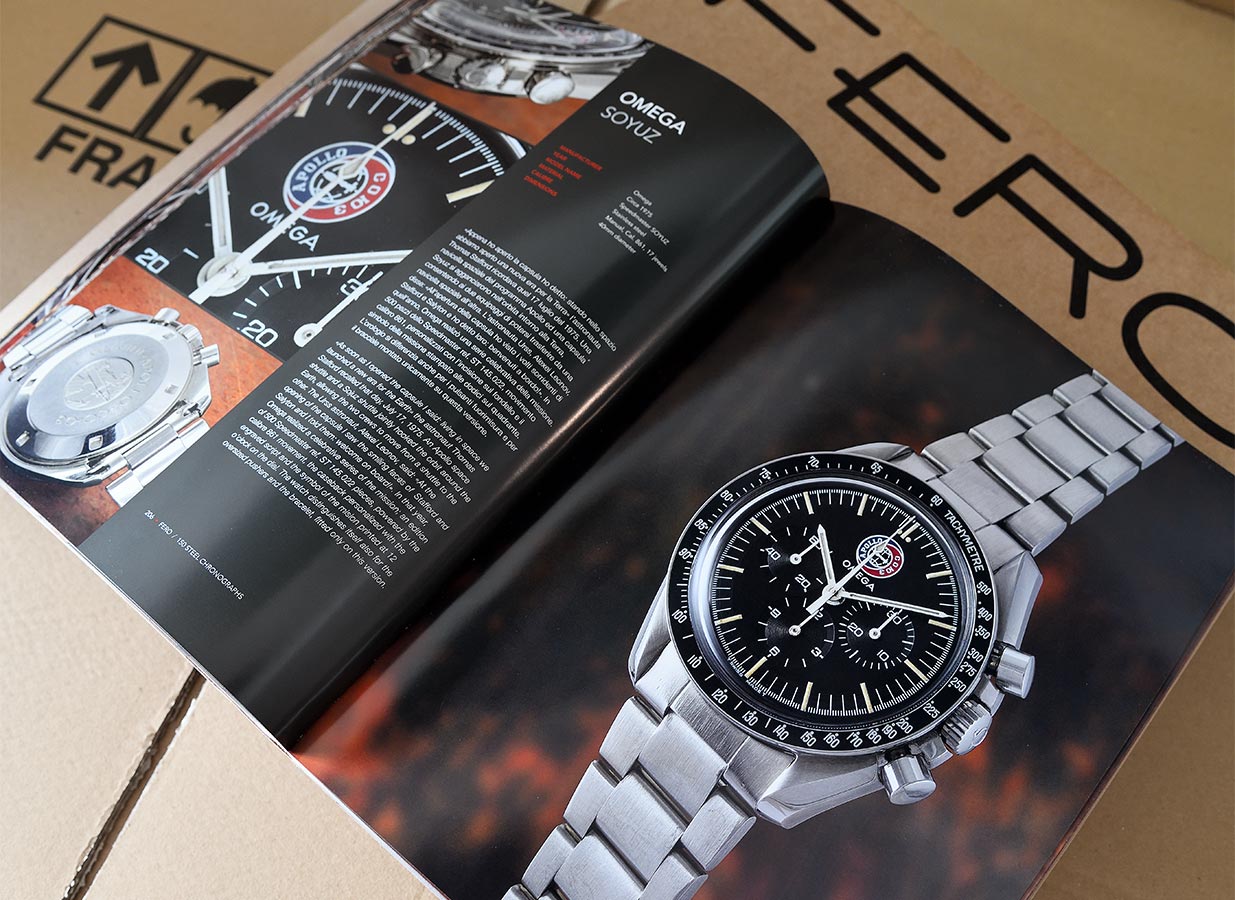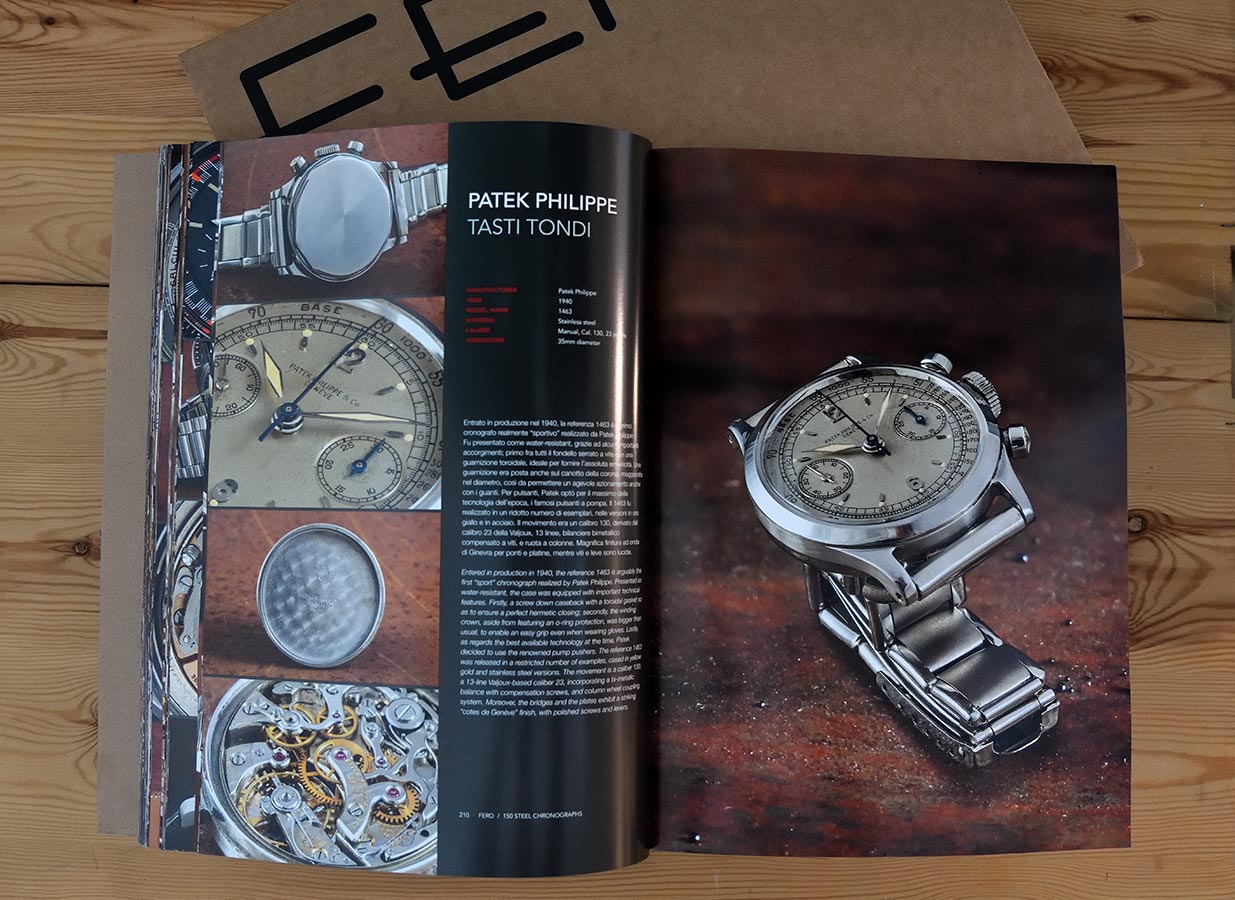 Chiudiamo con le parole dell'autore: «Per alcuni la patina che avvolge il ferro si chiama ruggine, per noi invece si chiama vita, tempo, esperienza, saggezza, stupidità, ferite, cicatrici, rimpianto, gioia, dolore, insomma emozioni».
Let us end with the words of the author: «For some, the patina that wraps it up is rust, but for us it is life, time, experience, wisdom, regrets, joy. In a nutshell, emotions».